Nearly each Jacksonville Rotary Club meeting features a local, state, or nationally known speaker who addresses the club on issues of current interest. The club has been fortunate to attract speakers of renown on a regular basis. Check out some of the recent individuals who have recently addressed the Club.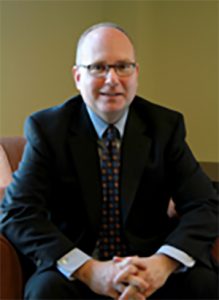 Alan Lowe, Executive Director of the Abraham Lincoln Presidential Library
Alan C. Lowe was appointed as Executive Director of the Abraham Lincoln Presidential Library and Museum in Springfield, Illinois in July 2016. He oversees all elements of that institution's operations, all with the mission of perpetuating and learning from the enduring legacy of President Lincoln and the rich history of Illinois.
Lowe obtained his B.A. (1986) and M.A. (1988) in history at the University of Kentucky. In 1989, Lowe joined the staff of the Ronald Reagan Presidential Library in Simi Valley, California as an archivist. In 1992, he moved to the Office of Presidential Libraries at the National Archives and Records Administration (NARA) in Washington, D.C. During part of this time, he also served as interim Director of the Franklin D. Roosevelt Presidential Library in Hyde Park, New York. From 2003 to 2009, Lowe served as the founding Executive Director of the Howard H. Baker, Jr. Center for Public Policy at the University of Tennessee. In that capacity, he created a host of public, educational, and research programs to increase civic engagement and promote a better understanding of policy issues. From 2009 to 2016, Lowe served as founding Director of the George W. Bush Presidential Library and Museum.
Lowe is a native of Bourbon County, Kentucky. He and his wife, Kathy, and daughter, Carolyn, reside in Chatham, Illinois.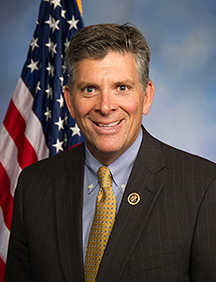 Congressman Darin LaHood
Congressman Darin LaHood, born and raised in Peoria, serves the constituents of the 18th District of Illinois. S. LaHood serves close to 710,000 constituents.
Prior to his recent election to Congress, LaHood served four years in the Illinois State Senate, beginning in 2011. LaHood spent more than nine years as a State and Federal Prosecutor. From 2001-2006, he worked for the U.S. Department of Justice as an Assistant United States Attorney in Las Vegas, Nevada. LaHood has also served as an Assistant State's Attorney in Cook County and Tazewell County. From 2006 up until his election to the House of Representatives, he practiced with the Peoria law firm of Miller, Hall & Triggs.
LaHood, a third generation Peorian, graduated from Spalding High School. He earned a B.A. from Loras College and holds a J.D. from The John Marshall Law School. In 2013, he was selected as an Edgar Fellow, a program run by former Governor Jim Edgar, which highlights future Illinois leaders. In 2008, LaHood was recognized in Peoria as a 40 Leaders Under Forty award winner. An avid runner, he has completed five marathons.
Congressman LaHood and his wife Kristen currently reside in Dunlap and are the proud parents of three sons, McKay, Lucas, and Teddy.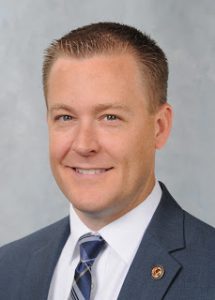 Representative C.D. Davidsmeyer
Representative C.D. Davidsmeyer was born and raised in Jacksonville, Illinois, where he attended Jacksonville High School. He received his BA in Political Science from Miami University in Oxford, Ohio. Following his graduation, Representative Davidsmeyer worked as a Legislative Assistant to Congressman John Shimkus in Washington, DC.
Representative Davidsmeyer returned to his hometown of Jacksonville in 2006 to become Operations Manager of IRC Inc., a subsidiary of Illinois Road Contractors, Inc. In 2009, he became Vice President of IRC where he continued his duties of Operations Manager adding all budget responsibilities and financial decisions of the company.
Representative Davidsmeyer and his wife Kristen along with their two boys, Lennox and Pax, reside in Jacksonville.
President Mark J. Tierno, MacMurray College
MacMurray President Mark Tierno addressed the Jacksonville Rotary Club, presenting an optimistic program of expansion of MacMurray College. Tierno began his career at the college in 2016, and is looking to revitalize the campus community.
Tierno was president of Cazenovia College since 2000. During his tenure, the College's enrollment grew by a third, and the retention rates of both first-year students and the student population as a whole have more than doubled. Further, he moved Cazenovia into the first tier of baccalaureate colleges in the US News rankings of the best colleges in the North.
"I believe my background and experiences relate directly to the agenda for growth and development that has been identified by the MacMurray campus community," Tierno stated.
In his 15 years as president of Cazenovia College, Tierno has had a powerful, positive impact on the College's improvement and expansion. In addition to the accomplishments noted above, Cazenovia saw the number of students applying to the College triple. The College's fundraising arm was restructured under his leadership, helping to yield a five-fold increase in annual donations, including the first seven-figure foundation gifts in the College's history.
President Barbara A. Farley, Illinois College
Barbara A. Farley, the 14th President of Illinois College, has dedicated her career to building strong academic institutions that inspire students to lead lives of meaning and service. Before coming to Illinois College in 2013, Farley was vice president of academic affairs and dean of the college at Augsburg College in Minneapolis, Minnesota. She has served higher education in the classroom and through administrative roles for over 30 years in a range of liberal arts colleges and universities.
Farley graduated from the College of Saint Benedict in St. Joseph, Minnesota, with a Bachelor of Arts degree in business administration and a minor in French. She received her M.B.A and Ph.D. in business administration (with concentrations in organizational leadership and strategic management) from the Carlson School of Management at the University of Minnesota. In 2007 she participated in the Institute for Educational Management at the Harvard Graduate School of Education and in 2013 returned to Boston to join colleagues from around the world in the Harvard Seminar for New Presidents.
Farley's scholarly interests are in organizational leadership and practice. Her doctoral dissertation focused on the role of the chief executive officer as the catalyst for strategic alignment. Her personal interests include the study of French language and culture, world travel and contemporary dance.
Tyler Aring, CCK Automations
Tyler Aring is the C.O.O. of CCK Automations, an electronics and injection molding manufacturer in Jacksonville.  His responsibilities include overseeing day to day operations as well as the future developments of the company.  Previously, Tyler worked as the production manager for CCK Automations in addition to managing a machine and metal fabrication facility in Jacksonville.
Tyler worked for the Morgan County Sheriff's Office as a deputy for 3 years and currently works part time for the Village of South Jacksonville and Jacksonville Special Response Team.
Tyler graduated from JHS, LLCC, and obtained his BA in Organizational Leadership from MacMurray College
Tyler is a veteran and served 9 years in psychological operations for the US Army from 2001-2009 and served in Iraq in 2003.
Samantha Sauer, Illinois College Al Habtoor Archives
Samantha Sauer addressed the club on the ongoing efforts of the Illinois College Al Habtoor Archives, and it's role in preserving the history of the College and West Central Illinois. Sauer joined the Illinois College staff in 2015 to operate and organize the archives, and has helped establish it as one of the premier conservation efforts in the area.
Brent Keener, Nestlé USA – Plant Manager, Jacksonville Factory
Mr Keener is responsible for supporting $300 Million in annual sales of Coffee-Mate powder and 180 Associates on a 24/7 Manufacturing Operation in Jacksonville, IL.  With 10 years of experience with Nestlé , Keener has worked in three different divisions across 4 locations within Nestle. His experience includes frozen meals, confections, and beverage products and have worked internationally. He was also featured on Food TV's "unwrapped" for Baby Ruth Manufacturing. Prior to joining Nestle, Keener had 5 years of experience with the Dept. of Defense as a project scientist, specializing in environmental science. Mr Keener was raised in the south and graduated from the University of South Carolina with a degree in chemistry. He is married to wife Carol, and welcomes his first child in May 2017.
Lydia Miller – DOT Foods
Miller has been with Dot since 2007.  Most recently, she was promoted to the Director of Corporate Recruiting after starting working in the Accounting, Replenishment, and Customer Service Departments.  She currently lives in Quincy with her husband Brett and 2 children.